Men's WWE Austin 3:16 Skull Graphic T-shirt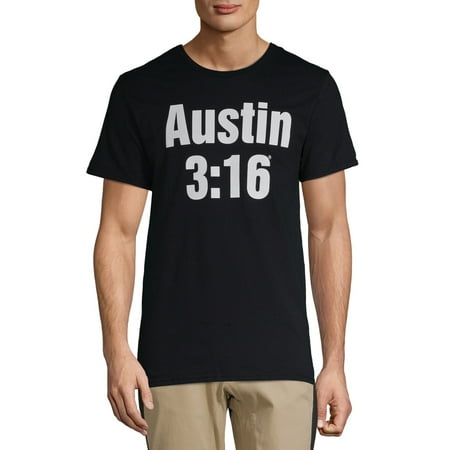 Show your appreciation for WWE with this awesome "Austin 3:16" t-shirt. Featuring a screen printed front, and a screen printed back, this tee is WWE all over. Nothing will show your enthusiasm for World Wrestling Entretainment better than this awesome graphic tee. Support your favorite fighter with this "Austin 3:16" shirt. This tee will add a cool statement to any outfit you're wearing. Pair this WWE tee with your favorite jeans, or with cool sneakers. This WWE "Austin 3:16" t-shirt will make a great gift for any WWE fan!
NOVELTY: Your favorite wrestler from WWE is now on this graphic t-shirt! There really is no better way to show your appreciation for WWE than with this awesome "Austin 3:16" graphic tee.ALL DAY COMFORT: This WWE tee does not just have an cool front and back design, but it is very comfortable to wear as well. Featuring a 100% Cotton composition, the soft feel and easy fit ensures that you are comfortable in this WWE tee year round.OFFICIALLY LICENSED: This WWE is tee is officially licensed merchandise, so you can rock this WWE tee knowing it is authentic and licensed by an official WWE affiliate.RANGE OF SIZING: This "Austin 3:16" tee is available in almost any size, from S up to 3XL. This ensures that it can fit properly for all fans of WWE, and makes a great gift for anyone!
You May Interest Other Products