Lineart Guitar Player Songwriter V Neck Women's -Image by Shutterstock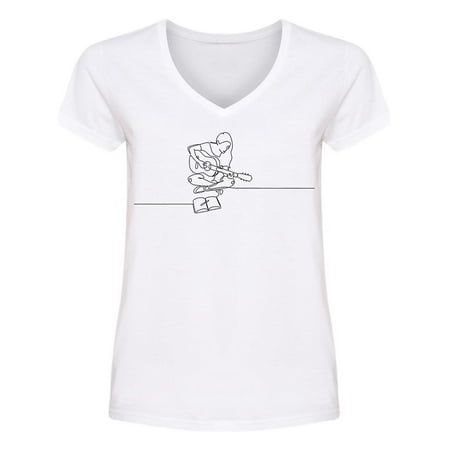 You can't go wrong with this Lineart Guitar Player Songwriter V Neck Women's -Image by Shutterstock that gives you an authentic style everyday. This T-shirt V Neck is composed of 100% cotton, and has been made for your everyday superior comfort. Pair this graphic tee with your favorite outfit. This T-shirt V Neck also makes an amazing gift for any occasion and it's a sure bet that the person will love this Tee! Officially Girl With A Guitar. Single Line Drawing. Continuous One Lineart Of Music Song Writer . Woman Sing And Arrange Songs Notes With A Pen And Paper, Musician, Instruments, Playing Music, Rhythm, Music Festival, Concert, All You Need Is Music, Saxophone, Fiddle, Violin, Violoncello, Cello, Drums, Guitar, Trombone, Banjo, Cornet, Trumpet, Song Writer, Piano, Musical Notes, Melody, International Music Day, Tambourine, Orchestra, Women's White T-shirt V Neck • Satisfaction Guaranteed! If you're not satisfied with your Shirt, refunds or replacements are made easy and we'll make them immediately. • 100% Cotton short sleeve T-Shirt. • Available Sizes: S up to 2XL. • Printed On Demand on the highest quality National Brand T-Shirts.
Lineart Guitar Player Songwriter, Our company specializes in graphic t-shirts and the creation of amazing designs.Our goal is to offer our customers the best!Our designs are great for daily life and every occasion, we have more than 100 categories and 100,000+ designs! At Smartprints, our top priority is to provide the best service. We stand behind our products 100% and offer a full 30 day return on T-shirts, tops and sweatshirts.
You May Interest Other Products