Kavio! Little Girls 3-6X Lettuce Edge Ruffles Sleeveless Dress Azure 3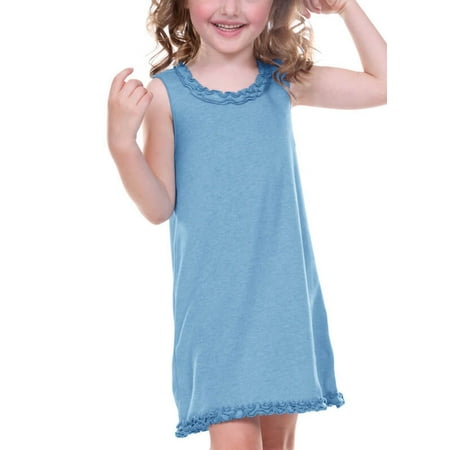 A sweet confection – this sleeveless dress is an adorable must-have piece. Covered with frilly lettuce edge ruffles at the neck and bottom hemline for a super-cute and delightful look, pair it with a denim jacket for a complete look. Made of cotton-poly 1x1 baby rib.
Material: hemMachine wash cold water, No bleach, Tumble dry lowDouble lettuce edge ruffles on neck and bottom3: Chest: 10-1/8"; FrontLengthHPS: 19"; Chest: 22"-23"; Height: 34"-38"4: Chest: 10-5/8"; FrontLengthHPS: 20-1/2"; Chest: 23"-24"; Height: 39"-41"5/6: Chest: 11-1/4"; FrontLengthHPS: 22"; Chest: 24"-25"; Height: 42"-44"6X: Chest: 11-7/8"; FrontLengthHPS: 23-1/2"; Chest: 25"-27"; Height: 45"-48"
You May Interest Other Products