Hungary Modern Pentathlon - Olympic Games Rio Flag Boy's Cotton Youth T-Shirt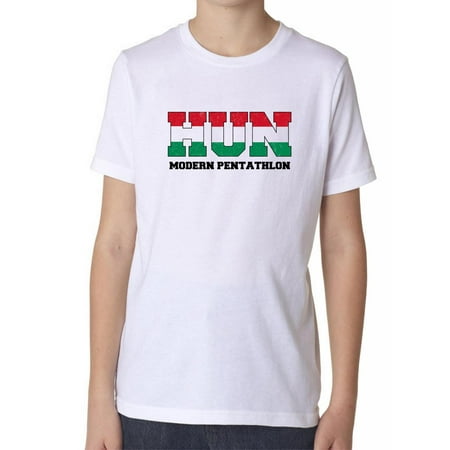 Hungary Modern Pentathlon - Olympic Games - Rio - Flag Boy's Cotton Youth T-ShirtThis is a Youth size T-shirt. Sizing is easy. Simply use the picture sizing graphic and select the best size for you. When in doubt, sizing up is always smart. Prefer this in Men's or Women's sizes? Just click on our store link above!
Don't miss out on the great new T-shirts that are taking the world by storm. Hollywood Thread has a design for everyone - express yourself your way! Hollywood Thread T-shirts will make your other T-shirts jealous. We've heard many reports at HQ of T-shirt drawer rebellions as the old, crusty, hot polyester shirts are replaced with fine Hollywood Thread cotton. Our recipe for success is simple. Use 100% ring spun ultra soft cotton t-shirts (no polyester blends with us!). Make them by hand using state of the art equipment (with well trained American labor!). Ditch the torturous itchy tags and replace them with a smooth tagless design (your itchy neck with thank you!). Create a wide variety of unique, trendy, clever graphics (thousands and thousands of designs with new designs added weekly). Always take care of our customers with 100% Satisfaction Guarantee. So show off your inner star and rock out like a celebrity with your new premium Hollywood Thread T-shirt!
You May Interest Other Products