Airpods Case with Anit-Lost Accessories Kit Set, GMYLE Silicone Earbuds Cover, Magnetic Strap Sport String Cable Connector and Ear Hook Tips Compatible for Apple AirPods 1 2 (Baby Pink)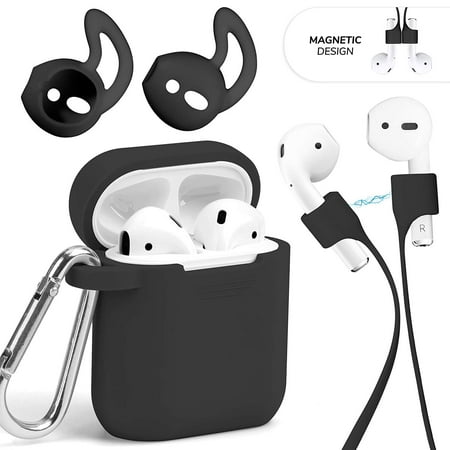 GMYLE Airpods Case offers you the best experience to keep your airpods safe and clean. Easy installation, perfectly fit your AirPods with minimal bulk. Made of durable impact-resistant silicone rubber, brings comfortable smooth touch and flexibility. Bottom grooving design gives you easy access to the lightning port, no need to take out of the case when charging. Metal carabiner makes your airpods case accessible and secure against loss and thefts, decorating your bag at the same time.
【100% SATISFACTION GUARANTEE】: We promise to bring the best quality AirPods case to our customers. If you are not satisfied with our products, you can get returns and money back within 24 months.【PREMIUM SILICONE MATERIAL】: Made of food-grade silicone plastic, GMYLE Airpods case and accessories are still comfortable and safe to use without any aging problems like shivering and scratching, even after using for a long time. The silicone plastic cover of the ear hooks and Airpods strap are skin friendly so it is less likely to be itchy or allergic wearing our items.【360° FULL PROTECTIVE CASE】: Leaves no fingerprints and dust on GMYLE Airpods case. Micro-matte technology on the surface makes the case 100% anti-shock, anti-slip, fingerprint and dust-proof. Dirts on the case surface can be cleaned and washed easily.【PERFECT FIT FOR YOUR AIRPODS & YOUR EARS】: No gaps between the case and your Airpods with the application of the upgraded fitting technology and one-piece molding process. The ear hooks have ergonomic design to fit the shape of human ear canal comfortably.【VALUE-FOR-MONEY 4 IN 1PACKAGE】: You will get 1 x Airpods case, 1 x stainless steel carabiner keyring, 1 x Airpods strap and 2 x Airpods ear hooks (NOT INCLUDE AIRPODS). Wonderful package designed to keep your Airpods in place, make it portable to hold on your jeans and bags. Convenient to use whenever you are traveling or in sports.
You May Interest Other Products